Land Survey Services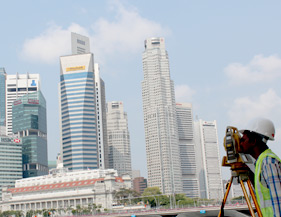 Over the past decade, Advance Survey has grown and developed into a professional land survey firm licensed under the Land Surveyor's Board of Singapore.
We deliver high quality surveys using the latest in geospatial technologies handled by an experienced team of surveyors. The following are some of the complex survey technology equipment produced by leading international OEMs that we utilize for our surveys:
Leica Electronic Total Stations
Sokkia Robotic Total Stations
Topcon 2,000m Reflectorless WinCE Total Stations
Trimble Digital Levels
Trimble GNSS Receiver Systems
Topcon Real-Time GNSS RTK Systems
Topcon Integrated Handheld GIS Collectors
We provide a wide range of land survey services tailored to our global clients' needs, whether for government agencies and planning authorities, designers, architects, building contractors, or even specialized requests from the Oil & Gas industry.
Cadastral Survey
Engineering Survey
Topographical Survey
Measured Survey
Hydrographical Survey
Refinery Structural Survey
Petrochemical Tank Inspection